Prof. Sebastian Wolf
Professor of Ophthalmology, Director, and Chair of the Department of Ophthalmology, Inselspital, Switzerland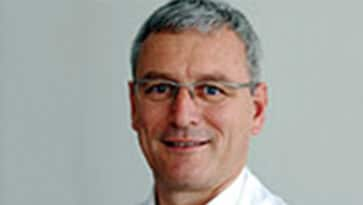 Sebastian Wolf is Professor of Ophthalmology, Director and Chair of the Department of Ophthalmology, Inselspital, University of Bern, Switzerland. He earned a PhD degree for biotechnical engineering from the RWTH Aachen University, Germany, and subsequently attended medical school at the same university. He completed his residency in ophthalmology at the RWTH Aachen University and undertook various fellowships at the Schepens Eye Research Institute and Harvard Medical School in Boston, Massachusetts, USA, and the Department of Ophthalmology at the RWTH Aachen University.
Professor Wolf has authored more than 180 publications in peer-reviewed journals, including Ophthalmology, Archives of Ophthalmology, American Journal of Ophthalmology, Investigative Ophthalmology and Visual Science, Diabetes Care, and Hypertension. He serves on the editorial board of various scientific journals, including Investigative Ophthalmology and Visual Science, Ophthalmologica, European Journal of Ophthalmology, and Graefe's Archive for Clinical and Experimental Ophthalmology. He is a frequent speaker at national and international meetings.
Professor Wolf is a member of many professional organizations, including ARVO, the Retina Society, EURETINA, the Club Jules Gonin, and the AAO. He has been appointed as ARVO Gold Fellow, and has served for 5 years as General Secretary of EURETINA and been elected as President Elect of EURETINA.
Professor Wolf's major clinical interests are in medical and surgical retina. His main areas of scientific interest are AMD, diabetic retinopathy, RVO, imaging, and vitreoretinal surgery.