Prof. Robert Rejdak
Professor and Chairman, Department of General Ophthalmology, Medical University of Lublin and Executive Director of the ESASO Research Center, Lublin, Poland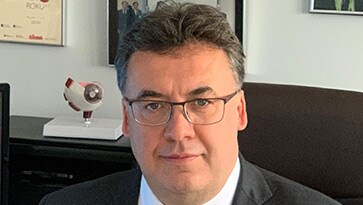 Since 2004, Robert Rejdak, MD, PhD has been a senior researcher and consultant in the Medical Research Centre of the Polish Academy of Sciences in Warsaw. He is also Trainings Director at the European School for Advanced Studies in Ophthalmology (ESASO) and a member of ophthalmology expert teams such as the Accreditation Team of the Ministry of Health and the Medicine Implementation Team for Diabetic Macular Degeneration. 
Professor Rejdak was appointed associate professor in 2013 and full professor in 2016. Since 2016, he also has been Deputy Editor-in-Chief and member of the Editorial Board of the international Ophthalmology Journal and editor of a series of seven monographs entitled "Biblioteka Okulisty Praktyka" ["The library of a practitioner ophthalmologist"].
Professor Rejdak specializes in cataract, retina, and vitreoretinal surgery, and has conducted more than 30,000 surgical interventions, including over 20,000 cataract and 10,000 vitrectomy surgeries. For several years Professor Rejdak has been providing courses in vitreoretinal surgery in Poland (Lublin and Kraków) and abroad (Frankfurt am Main, Kuwait, Saudi Arabia, and Bahrain). He also conducted the first Scharioth Macula Lens implantation in Poland.
Since 1999 Professor Rejdak has cooperated with the Department of Ophthalmology at the University of Erlangen-Nuremberg, where, under the supervision of Professor Anselm Jünemann, he became acquainted with the techniques of the histology and pathology of the eye and underwent training in cataract and vitreoretinal surgery. He also currently works closely with the Ophthalmology Clinic in Rostock, Germany.
In 2001, he was awarded a fellowship from the German Society of Ophthalmology in the Ophthalmology Hospital of the University of Tübingen, Germany. He then obtained NATO fellowship and the EU-funded Marie Curie Individual Fellowship, which allowed him to continue the study at the Ophthalmology Hospital of the University of Tübingen until February 2005. Since then, owing to a long-term research grant from the Kerstan Foundation, he has been working closely with the research group led by Professor Eberhart Zrenner.
In 2005, Professor Rejdak worked on the effects of homocysteine on the synthesis of synovial acid in the retina and its role in neurodegenerative processes, which was funded by the FORTUNE grant awarded by the University of Tübingen. Between 2007 and 2017 he worked on the development of new methods of amenorrhea therapy in cooperation with Professors Frank Koch and Michael Koss of the University of Ophthalmology in Frankfurt am Main (now the Ophthalmology Department of Karl-Theodore Hospital in Munich).
In 2017, the General Ophthalmology Clinic in Lublin, led by Professor Rejdak, was included in the European Reference Network for Rare Diseases of the Eye (EU ERN-EYE) as the only ophthalmological center in Poland.