Prof. Quan Dong Nguyen
Professor of Ophthalmology at the Byers Eye Institute, Stanford University School of Medicine, California, USA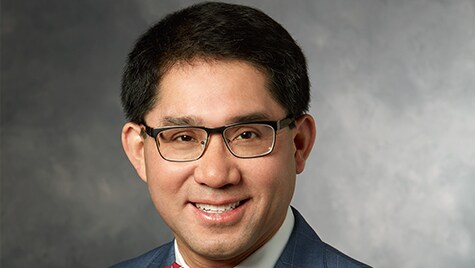 Professor Nguyen received his bachelor and Master of Science degree in molecular biophysics and biochemistry from Yale University, Connecticut. Subsequently, Professor Nguyen earned his medical degree at the University of Pennsylvania School of Medicine in Philadelphia. In addition, Professor Nguyen has completed an internship in Internal Medicine at the Massachusetts General Hospital, Harvard Medical School, Massachusetts; a residency in ophthalmology at the Massachusetts Eye and Ear Infirmary, Harvard Medical School, Massachusetts; as well as fellowships in immunology and uveitis at the Massachusetts Eye and Ear Infirmary; ocular immunology at the Johns Hopkins Wilmer Eye Institute in Baltimore, Maryland; and medical and surgical retina at the Schepens Eye Research Institute and Massachusetts Eye and Ear Infirmary.
Professor Nguyen has previously been on the faculty at the Wilmer Eye Institute of the Johns Hopkins Medical Institutions as Assistant Professor, before becoming Associate Professor of Ophthalmology, and then Director of Medical Education. In 2013, he was appointed as the McGaw Endowed Chair in Ophthalmology, Professor and Chair of the Department of Ophthalmology, and the Inaugural Director of the Stanley M. Truhlsen Eye Institute, as well as Assistant Dean for Translational Research, at the University of Nebraska Medical Center. In 2017, Professor Nguyen joined the faculty at Stanford University School of Medicine.
Professor Nguyen serves as principal investigator on multiple clinical trials investigating macular edema, neovascular age-related macular degeneration (AMD), and ocular inflammatory and uveitic diseases. His team is known for its innovative work in early proof-of-concept clinical trials to evaluate potential pharmacotherapeutic agents for retinal vascular and uveitic diseases. Professor Nguyen and his team were among the first investigators in the world to evaluate aflibercept for neovascular AMD and diabetic macular edema (DME), and ranibizumab for DME.
Professor Nguyen chaired the US multicenter READ-2, READ-3, and iDEAL studies, evaluating the potential role of vascular endothelial growth factor (VEGF) antagonists through different pathways for DME, and he led the SAVE, SAVE-2, and STOP-UVEITIS studies, evaluating the role of new pharmacologic agents in uveitis and ocular inflammatory diseases.
With a prolific career that has seen him author numerous manuscripts, Professor Nguyen serves on the editorial board of several journals, including the Journal of Ophthalmic Inflammation and Infection and Ophthalmic Surgery, Lasers, and Imaging Retina, among others. Furthermore, since its launch in the fall of 2015, Professor Nguyen has been the Inaugural Editor-in-Chief of the American Journal of Ophthalmology Case Reports. 
Professor Nguyen's work has led to him being elected to many prestigious national and international medical associations; most notably, he was recently elected as Chair of the Board of Directors of the Vietnamese American Medical Association (VAMA) and General Secretary of the International Ocular Inflammation Society.