Prof. Hiroko Terasaki
Professor of Ophthalmology, Nagoya University Graduate School of Medicine, Japan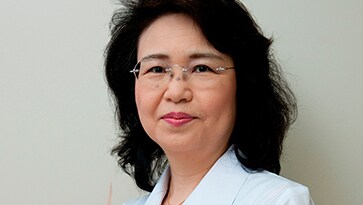 Dr. Terasaki has been Professor of Ophthalmology at the Nagoya University Graduate School of Medicine for 18 years. Nagoya University is one of the top universities in Japan and has a 130-year history, during which Dr. Terasaki became the first female professor and Chair.
She has performed thousands of surgeries, including difficult surgeries such as retinopathy of prematurity. She has been persistent in continuing to conduct basic and translational research for those with unmet needs, even after taking on the position of Chair at the Nagoya University Graduate School of Medicine for 12 years.
Dr. Terasaki has published more than 280 peer-reviewed English articles and has been involved in more than 30 clinical trials, some as principal investigator. She served as Associate Chief Editor of the Japanese Journal of Ophthalmology for 6 years and is currently an editorial board member of IOVS and Graefe's Archive for Clinical and Experimental Ophthalmology.
She has been an active member of the Club Jules Gonin since 2004, a member of the Association for Research in Vision and Ophthalmology since 1996, an international member of AAO since 1998, and an international member of Clinical Electrophysiology of Vision. She was recently appointed APAO fellow in the Asia-Pacific region.
Dr. Terasaki was awarded the Japanese Ophthalmological Society (JOS) Award and the Mori Award, which is the most prestigious award of the Japanese Retina and Vitreous Society, for contributions to the field of ophthalmology, as well as the vitreo-retina.
In addition to her energetic research and clinical work, Dr. Terasaki has served as the Executive Board Director at JOS for 7 years. She was also an important member of the Ministry of Health, Labour and Welfare and the Japan Medical Association, and was an advisor to the Japanese Ministry of Science and Technology, through which she contributed to advancing science.