Dr. William Li
President, Medical Director, and Co-founder of the Angiogenesis Foundation, USA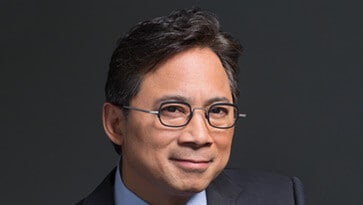 Dr. William W. Li received his AB with honors in biochemistry from Harvard College, Cambridge, Massachusetts, USA, and his MD from the University of Pittsburgh School of Medicine in Pennsylvania, USA. He completed his residency training and clinical fellowship in general internal medicine at the Massachusetts General Hospital (a Harvard teaching hospital). Dr. Li is President, Medical Director, and Co-founder of the Angiogenesis Foundation, a non-profit organization that is re-conceptualizing global disease fighting.
A protégé of medical pioneer Dr. Judah Folkman, Dr. Li has been engaged in translational research and clinical applications of angiogenesis-directed therapeutics in ophthalmology, cancer, wound and tissue repair, cardiovascular diseases, neurodegeneration, and other pathologies. A major part of Dr. Li's work focuses on defining the value of current treatment on patient outcomes and in population health, and identifying new targets and pathways for future innovations in managing and preventing angiogenesis-dependent conditions.
Dr. Li is a sought-after expert collaborator with government agencies, professional societies, industrial and academic innovators, and health policy groups. His non-profit work has been cited by The New York Times, Fortune, and CNN. He has been a speaker at a TED conference, is a member of the Clinton Global Initiative, and has designed a session at the World Economic Forum. He is on the boards of the Angiogenesis Foundation, American College of Wound Healing and Tissue Repair, Plantrician Project, True Health Coalition, and Wound Research Foundation. Dr. Li has served on faculties at Harvard Medical School, Tufts University, and Dartmouth Medical School. He has numerous papers in Science, Nature Reviews, the New England Journal of Medicine, The Lancet, and other leading peer-reviewed medical journals.