Dr. Shih-Jen Chen
Associate Professor at National Yang-Ming University and Section Chief of the Department of Ophthalmology, Taipei Veterans General Hospital, Taiwan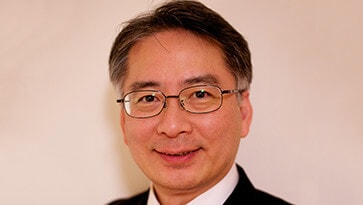 Dr. Shih-Jen Chen graduated from Kaohsiung Medical University in 1987, and completed his residency training in ophthalmology at Taipei Veterans General Hospital in 1989. He subsequently underwent his research fellowship at Wilmer Eye Institute in 1999 with Dr. Mark Humayun and Dr. Eugene de Juan, and achieved a PhD in public health at National Yang-Ming University in 2008.
Dr. Chen is currently Section Chief and full-time staff in the vitreoretinal section of the Department of Ophthalmology, Taipei Veterans General Hospital, and Associate Professor at the School of Medicine in National Yang-Ming University.
His research interests involve the epidemiology of retinal diseases; the diagnosis and treatment of AMD; polypoidal choroidal vasculopathy; myopic maculopathy; diabetic retinopathy; computerized image studies of macular disease; retinal prosthesis; and induced pluripotent stem cells for inherited retinal diseases. Dr. Chen has published more than 60 papers and has been involved in seven clinical trials since 2010, which included PLANET and EVEREST I and II.
Dr. Chen is the current President of the Taiwan Retinal Society.