A./Prof. Polona Jaki Mekjavić
Head of the Medical Retina Unit, Eye Hospital, University Clinical Centre Ljubljana and Associate Professor of Ophthalmology at the Medical Faculty, University of Ljubljana, Slovenia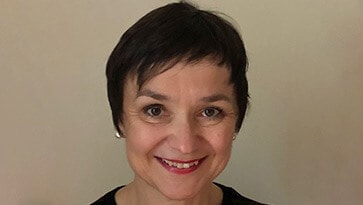 Polona Jaki Mekjavić is a medical retina specialist working in the Eye Hospital at Ljubljana University Clinical Centre where she is Head of the Medical Retina Unit. She is also Associate Professor of Ophthalmology at the Medical Faculty, University of Ljubljana.
Associate Professor Jaki Mekjavić received her medical degree in 1990 and specialized in ophthalmology at the University of Ljubljana in 1996. Important milestones in her career include clinical visits to Moorfields Eye Hospital in London, UK, Helsinki University Hospital in Finland, and John Radcliffe Hospital in Oxford, UK. 
Her major interest is in medical retina, mainly the diagnosis and treatment of age-related macular degeneration, retinal vein occlusion, myopia, and central serous chorioretinopathy. Since the introduction of anti-VEGF in ophthalmology, Associate Professor Jaki Mekjavić has been active in this area, both as a researcher and organizer. Her current research also includes diving and hyperbaric physiology, exercise, and space life sciences.
Associate Professor Jaki Mekjavić has organized numerous national and international educational and training workshops for ophthalmologists. She is also a member of the examining committee of the European Board of Ophthalmology, President of the Slovene Medical Retina Society, and Vice-President of the international Fluorescein Angiography Club.